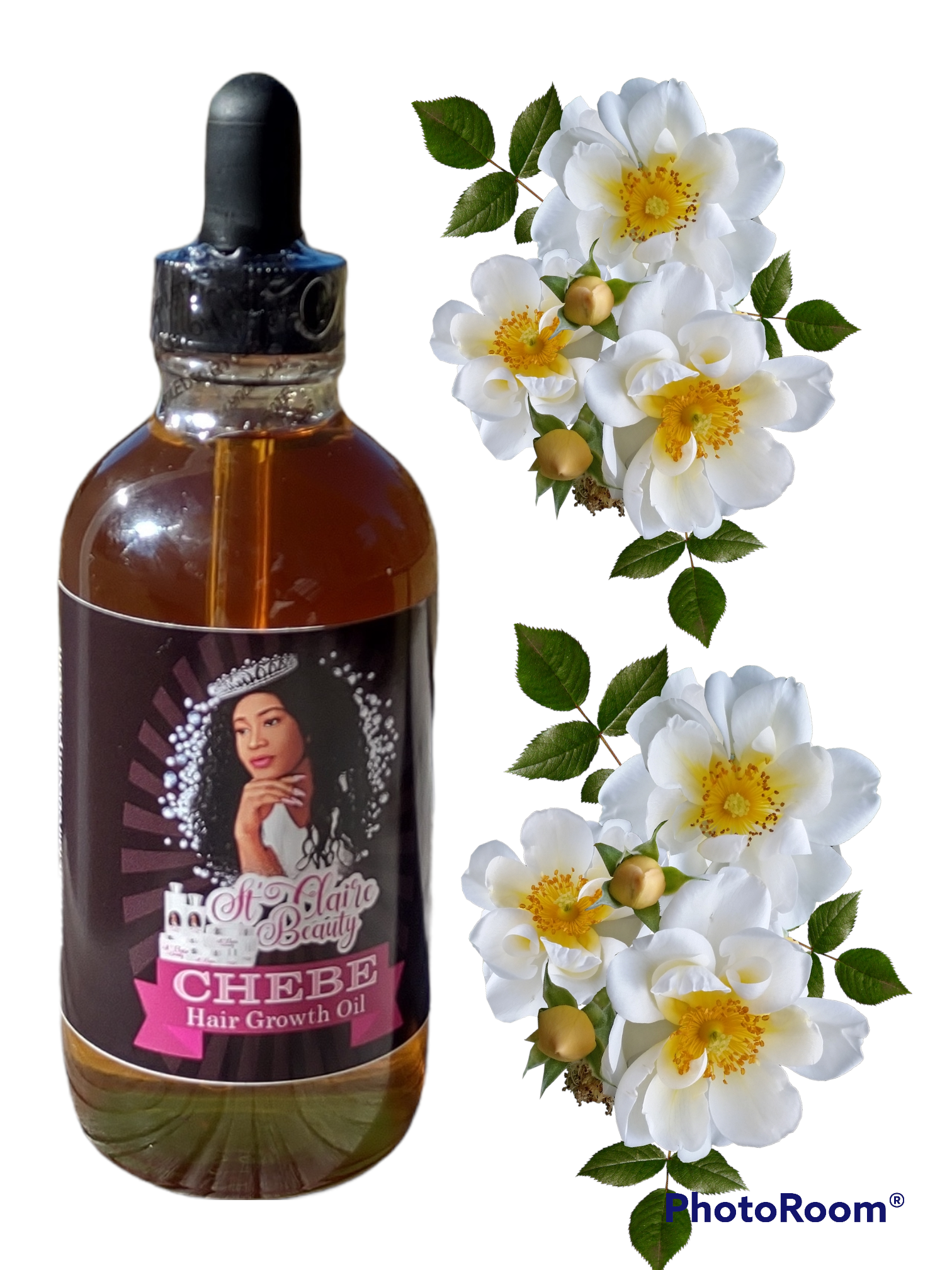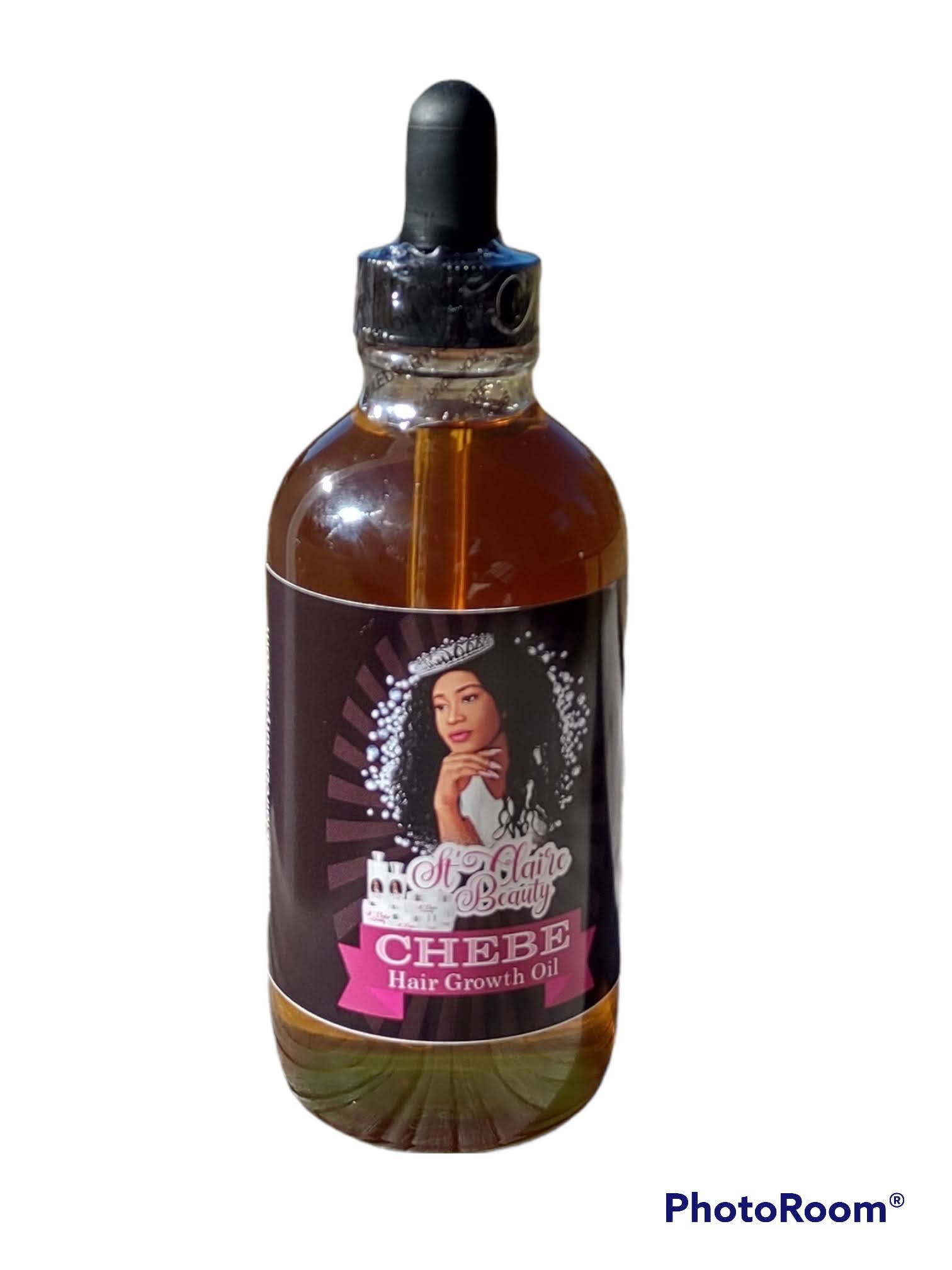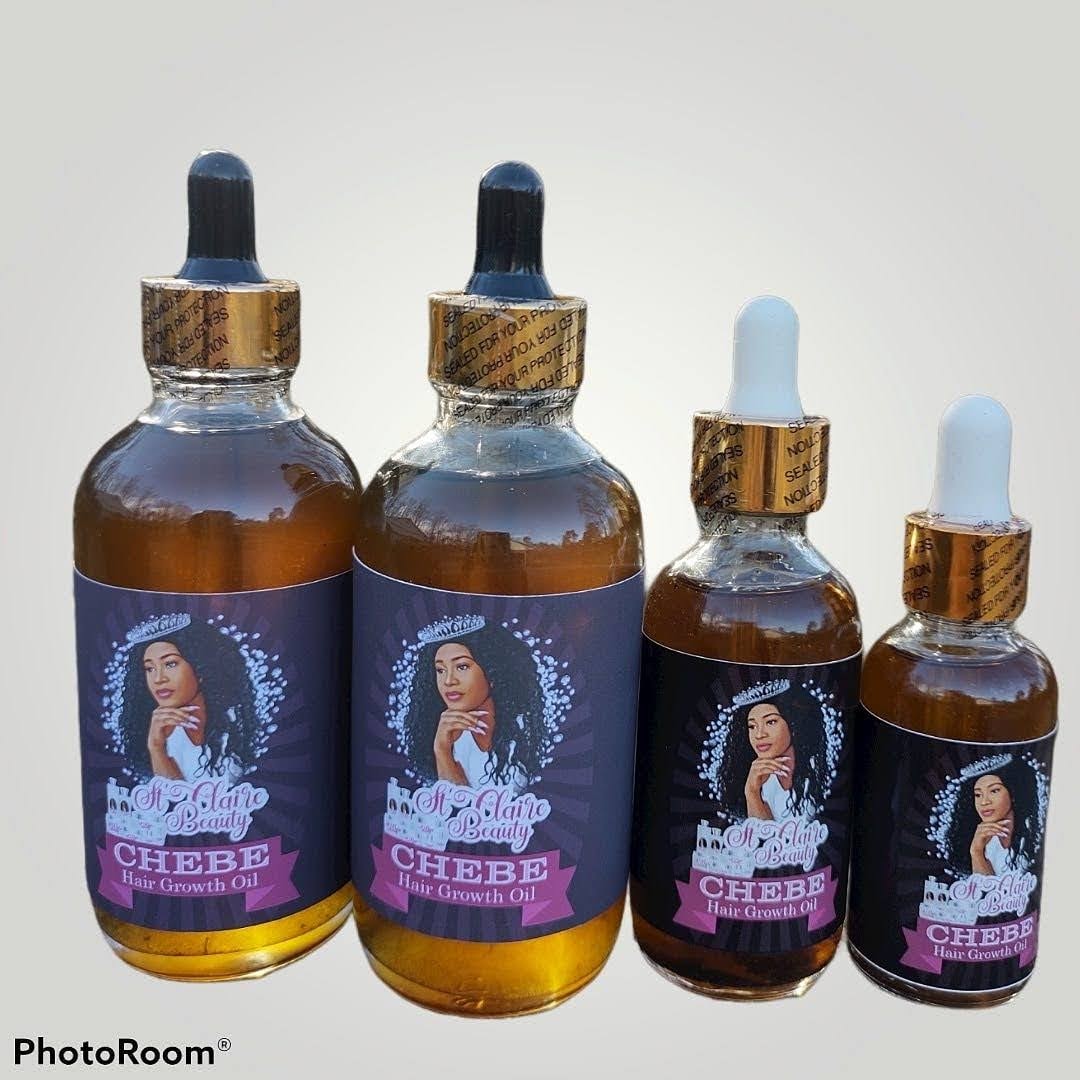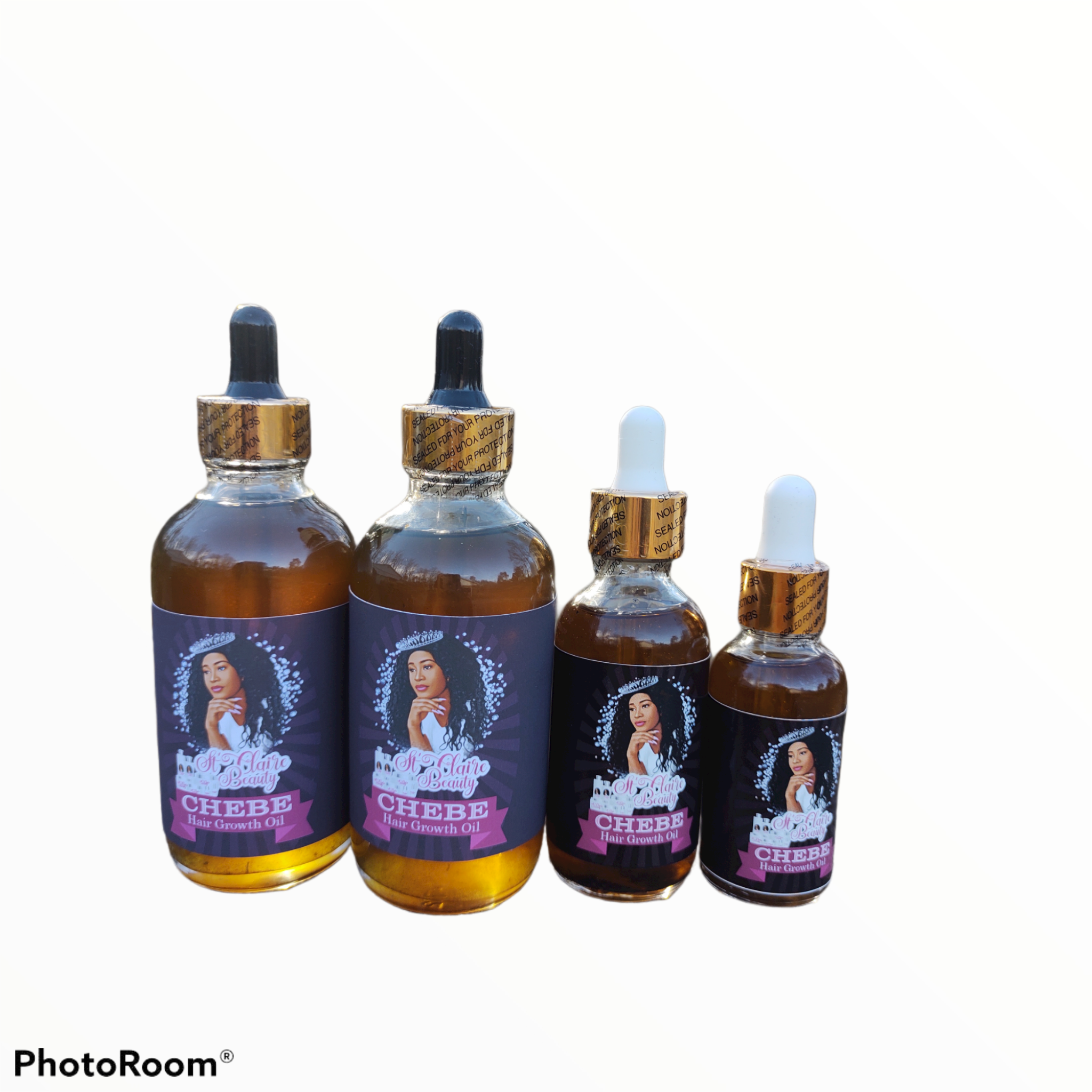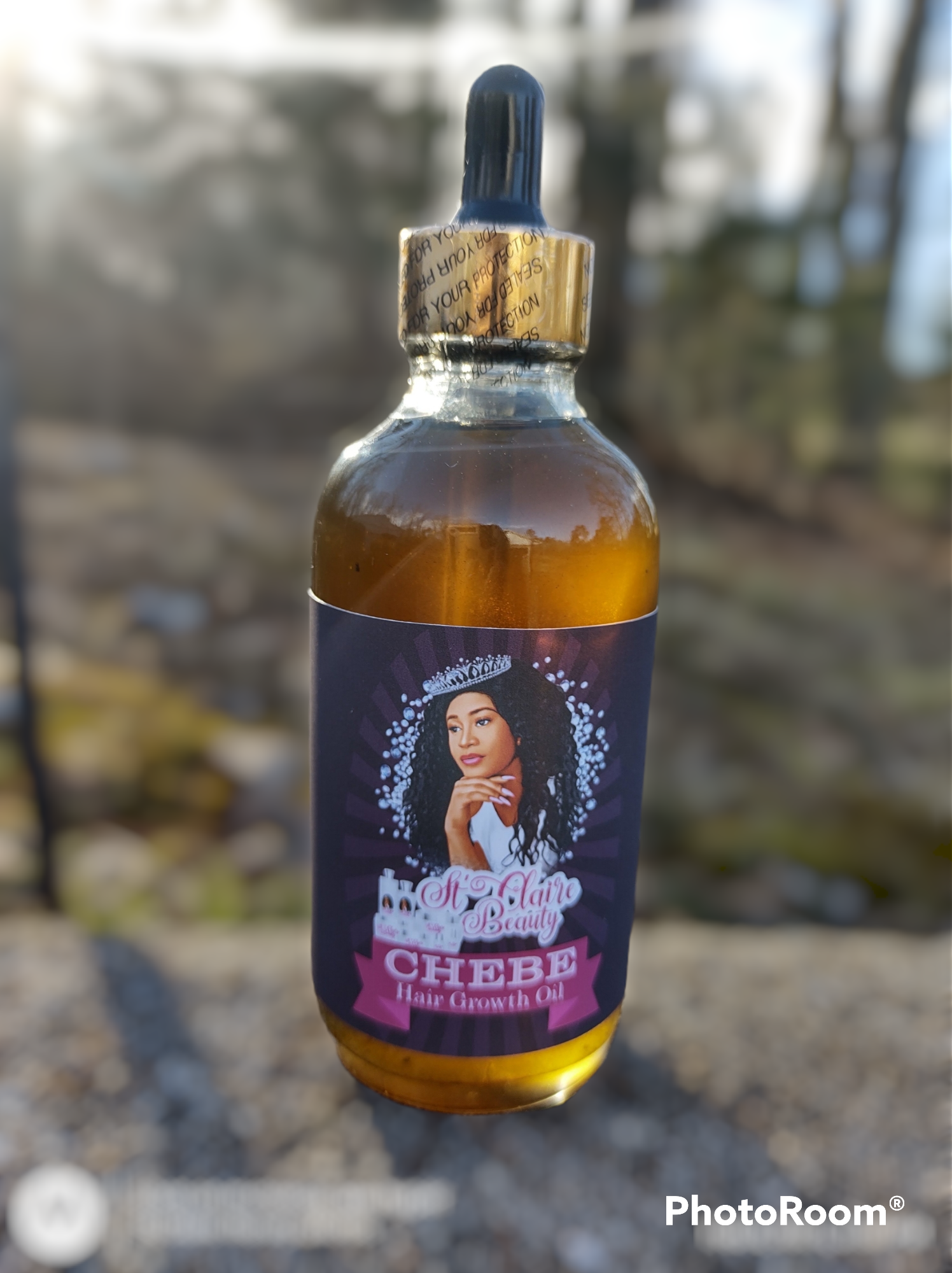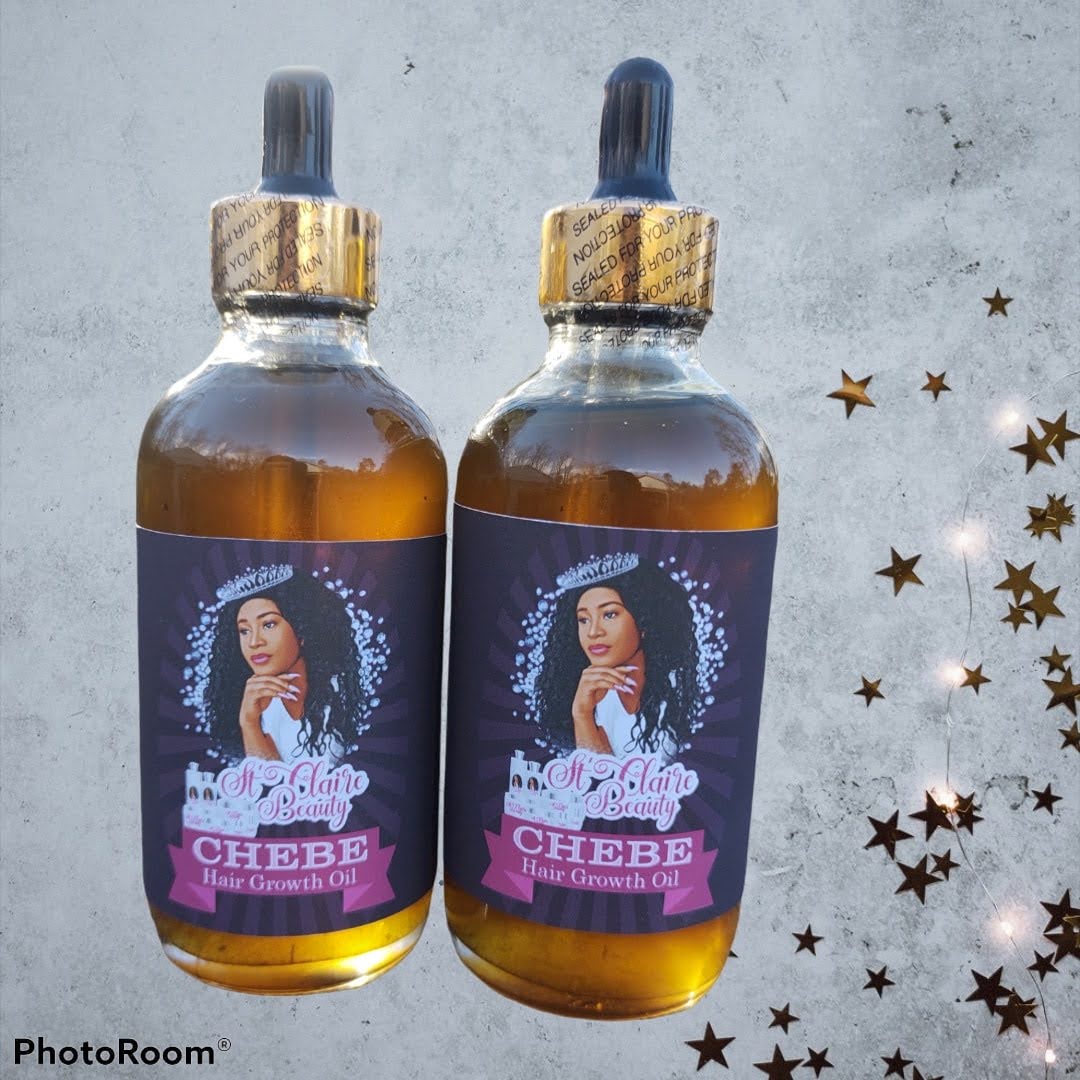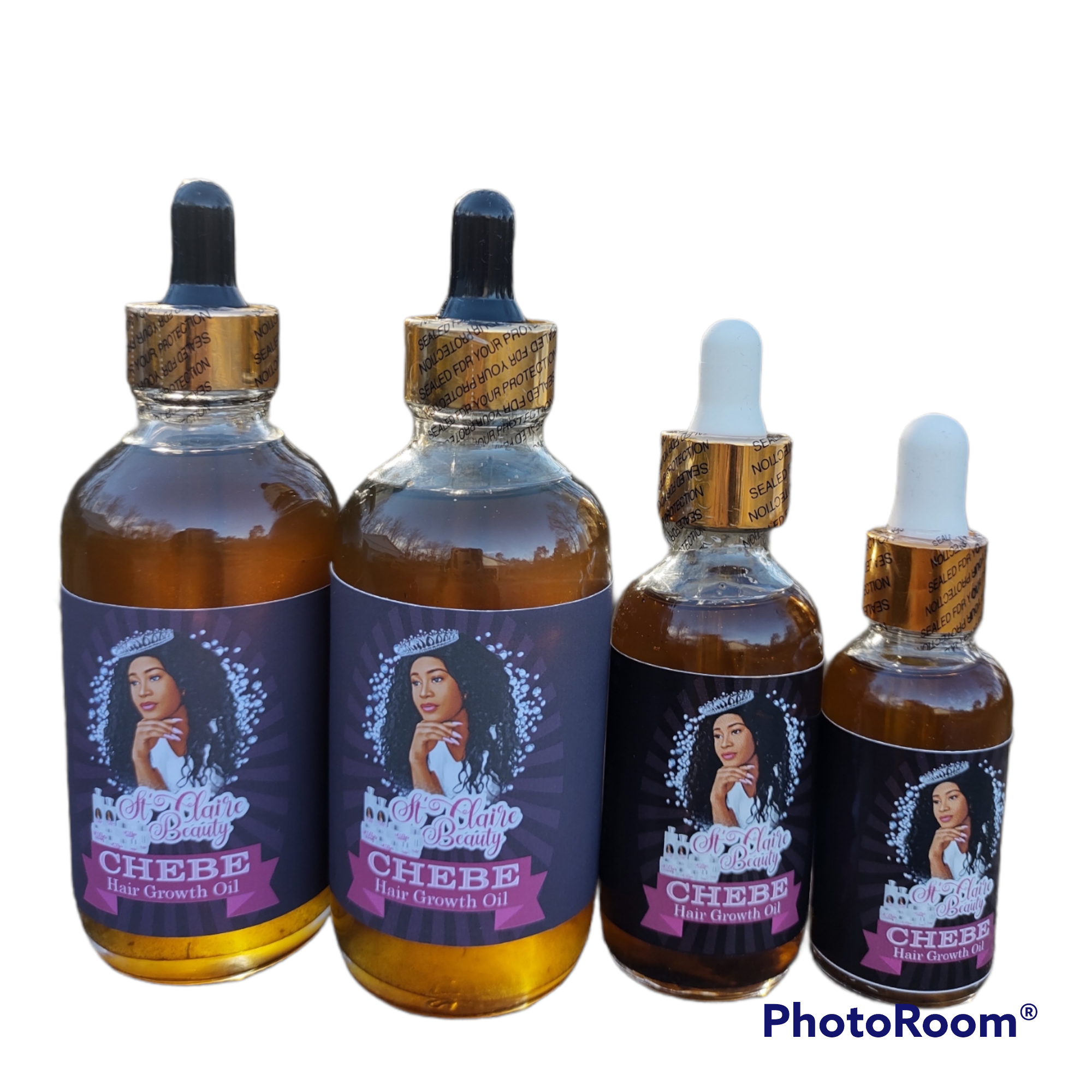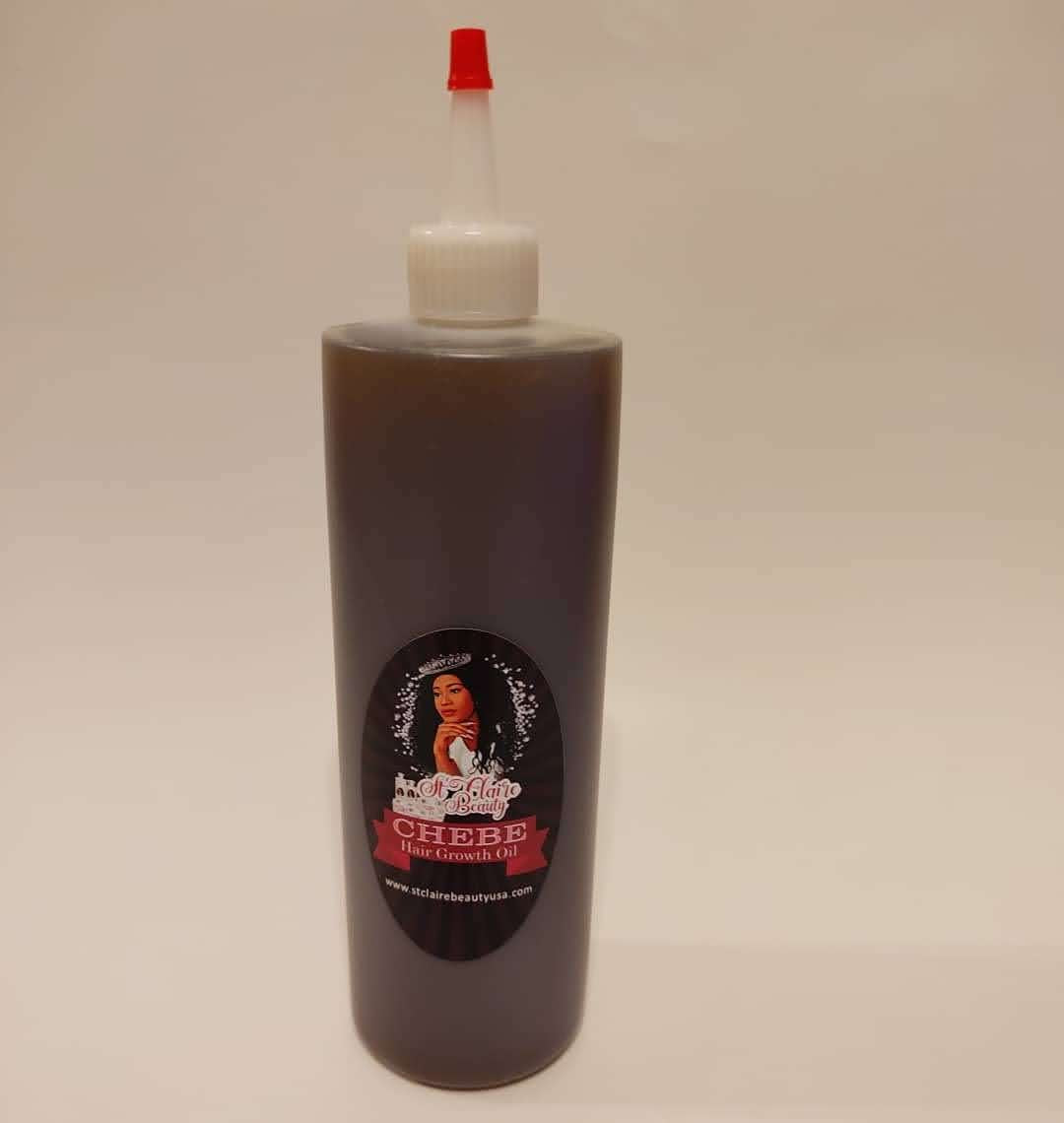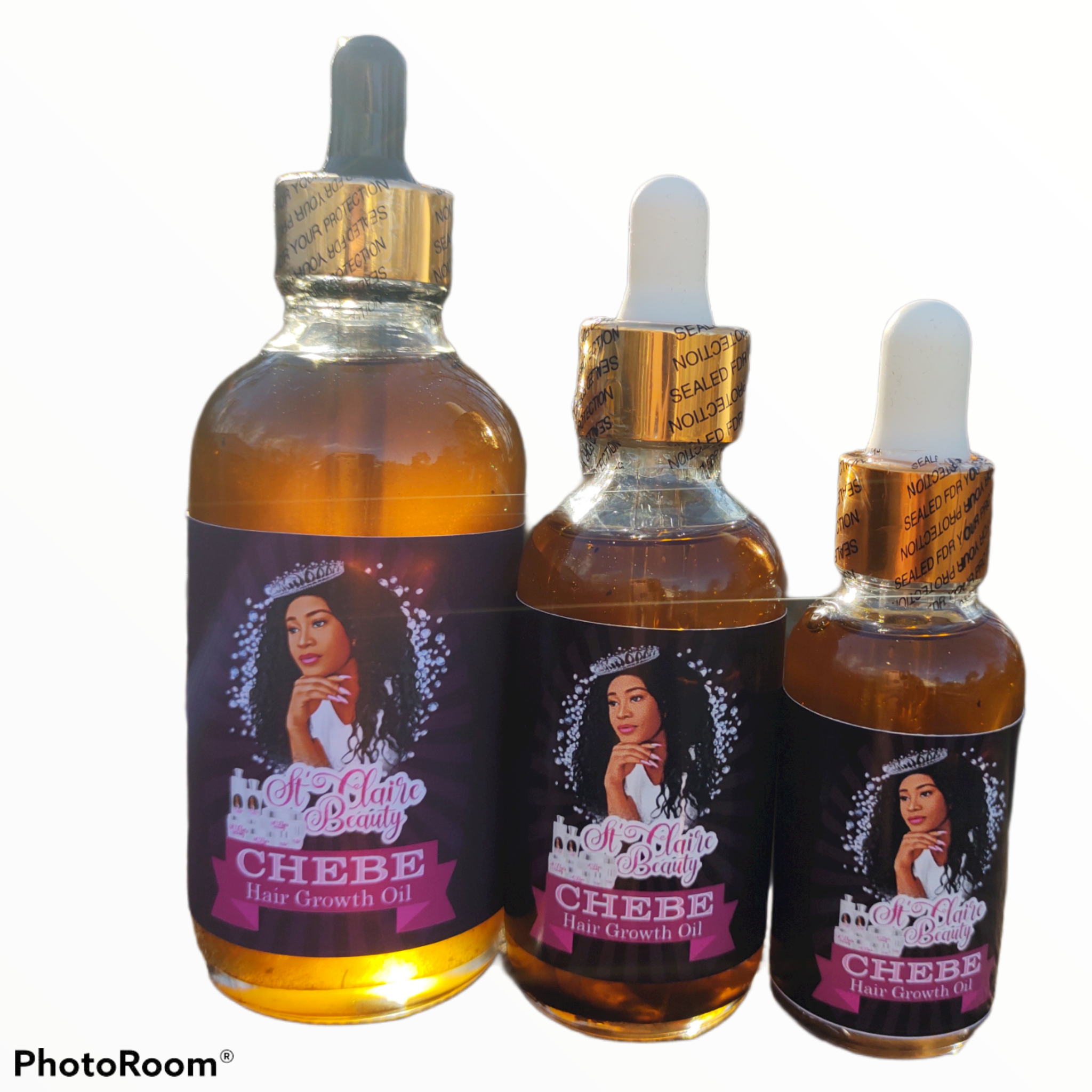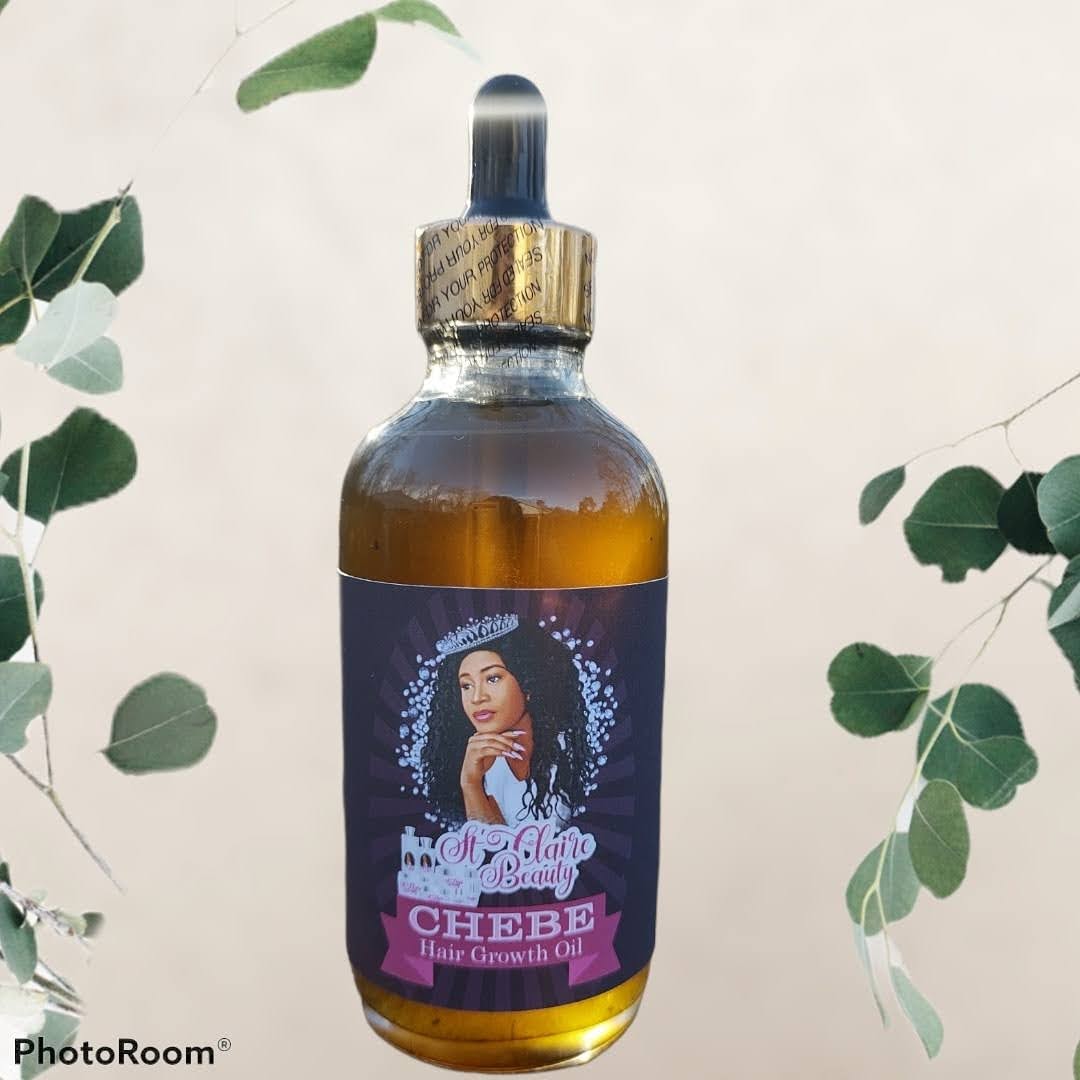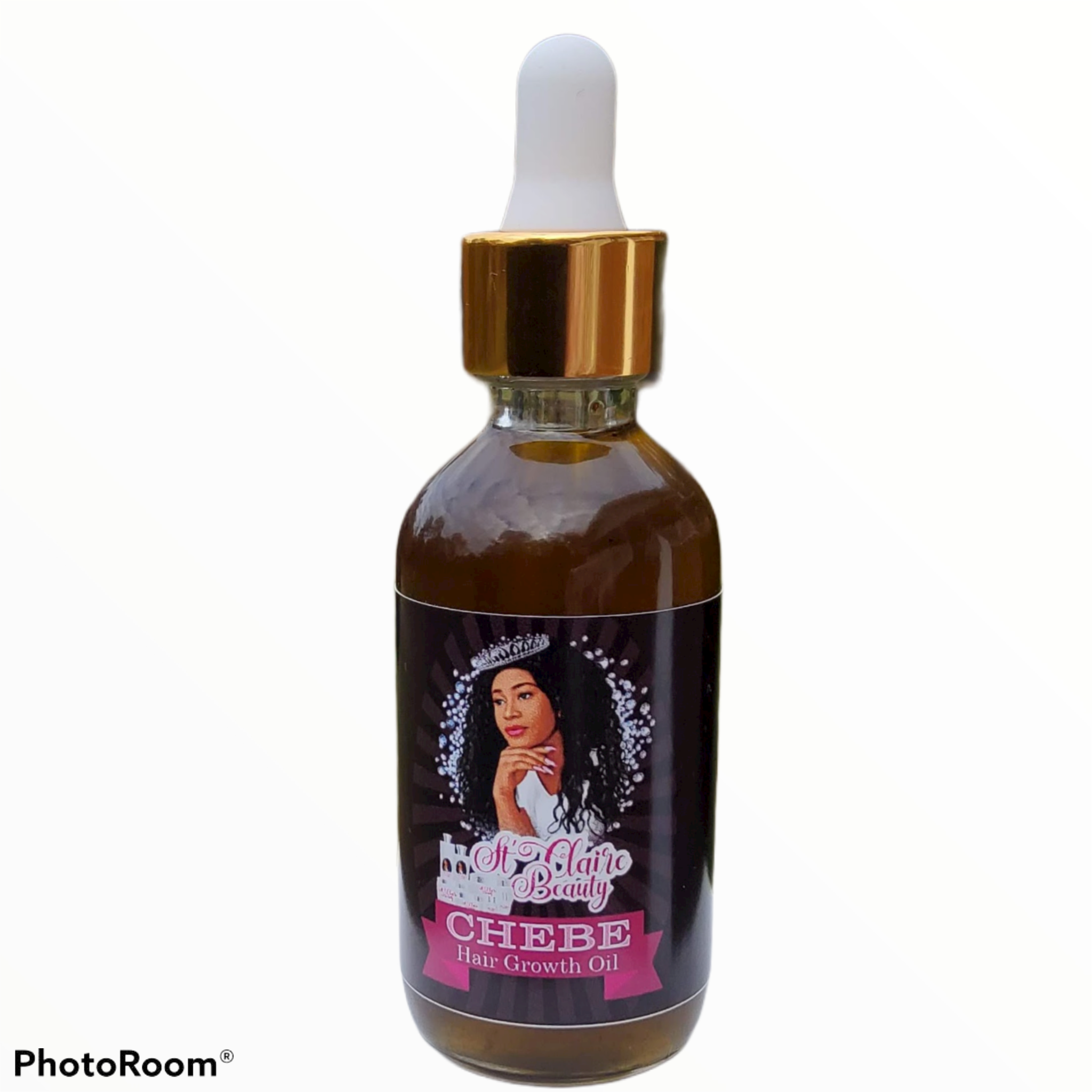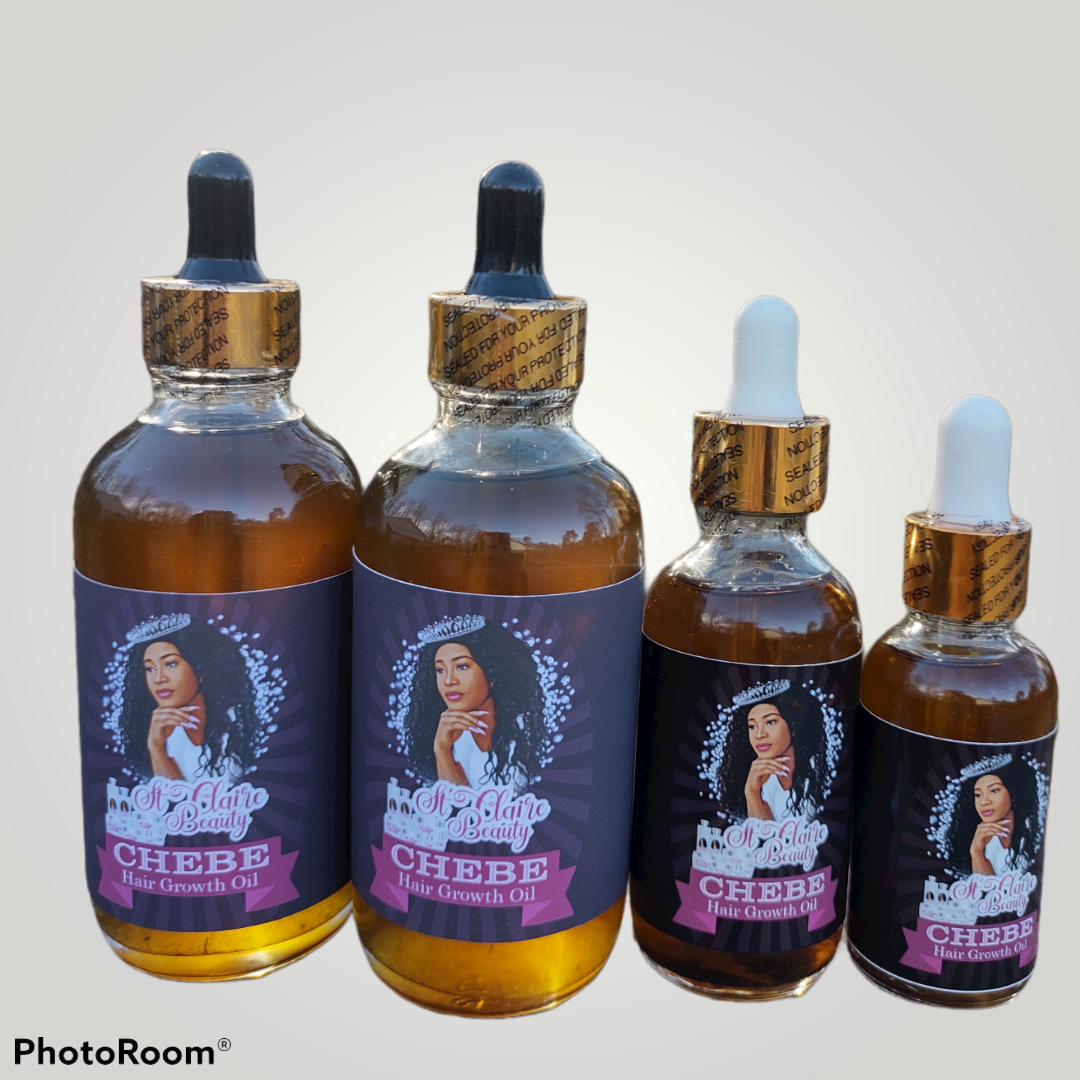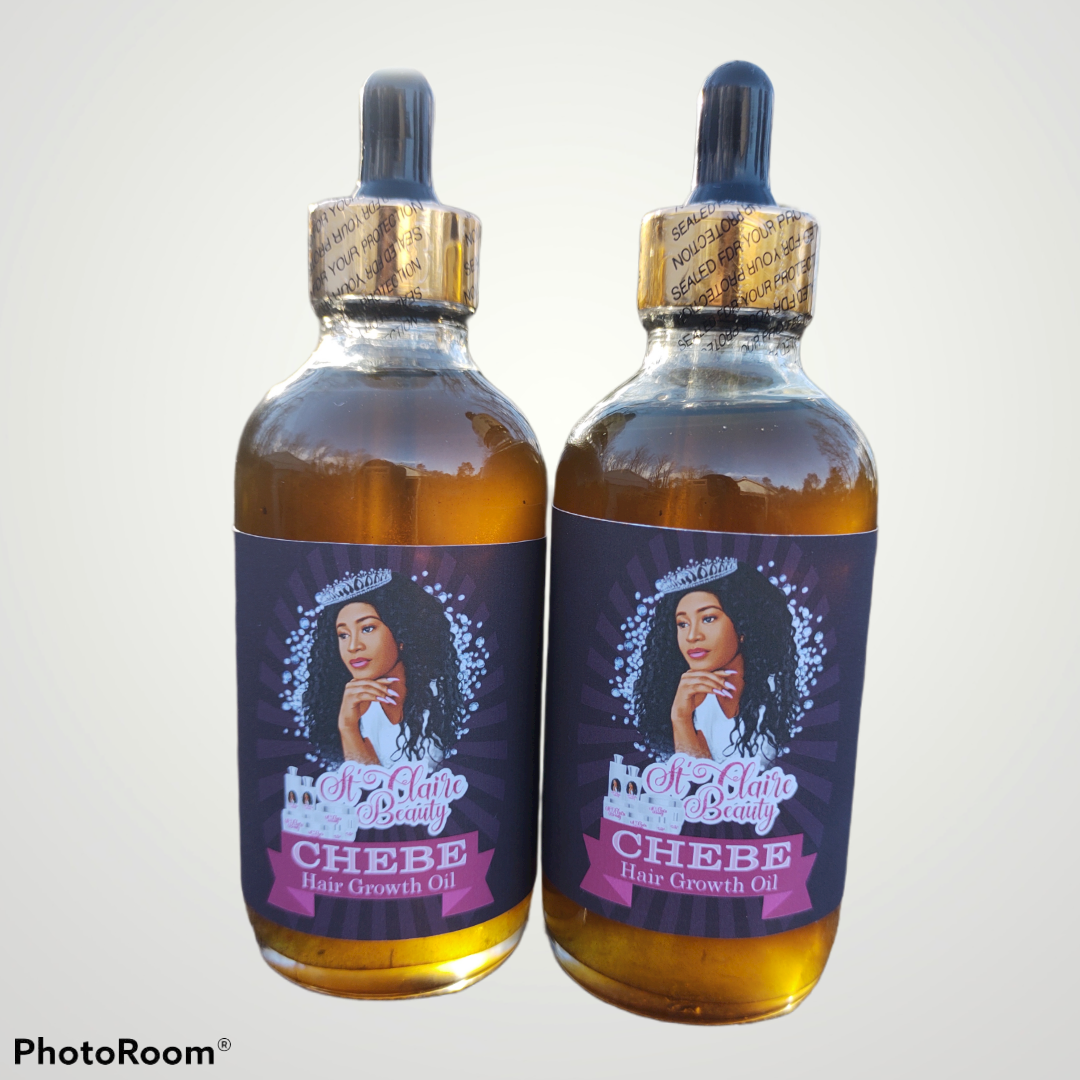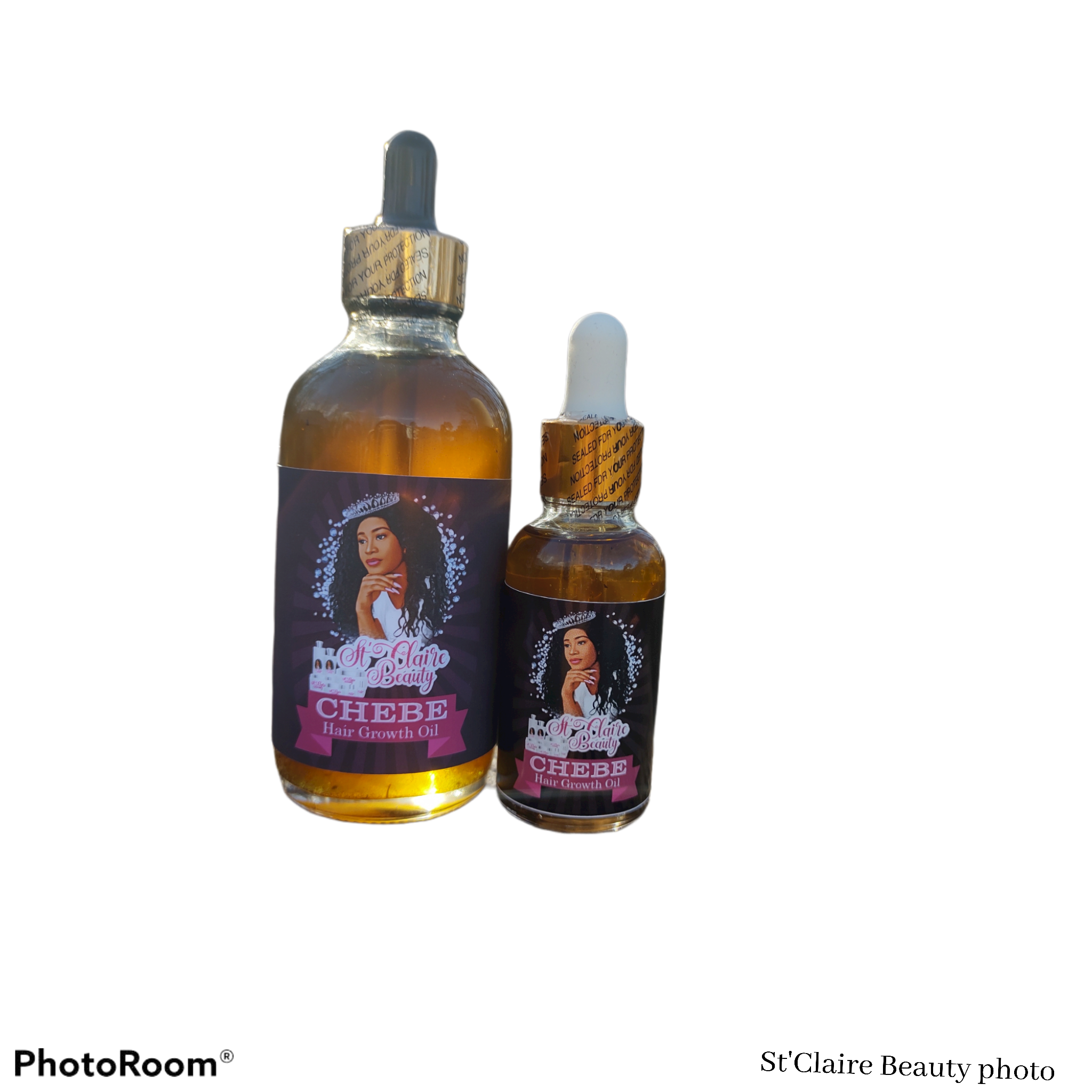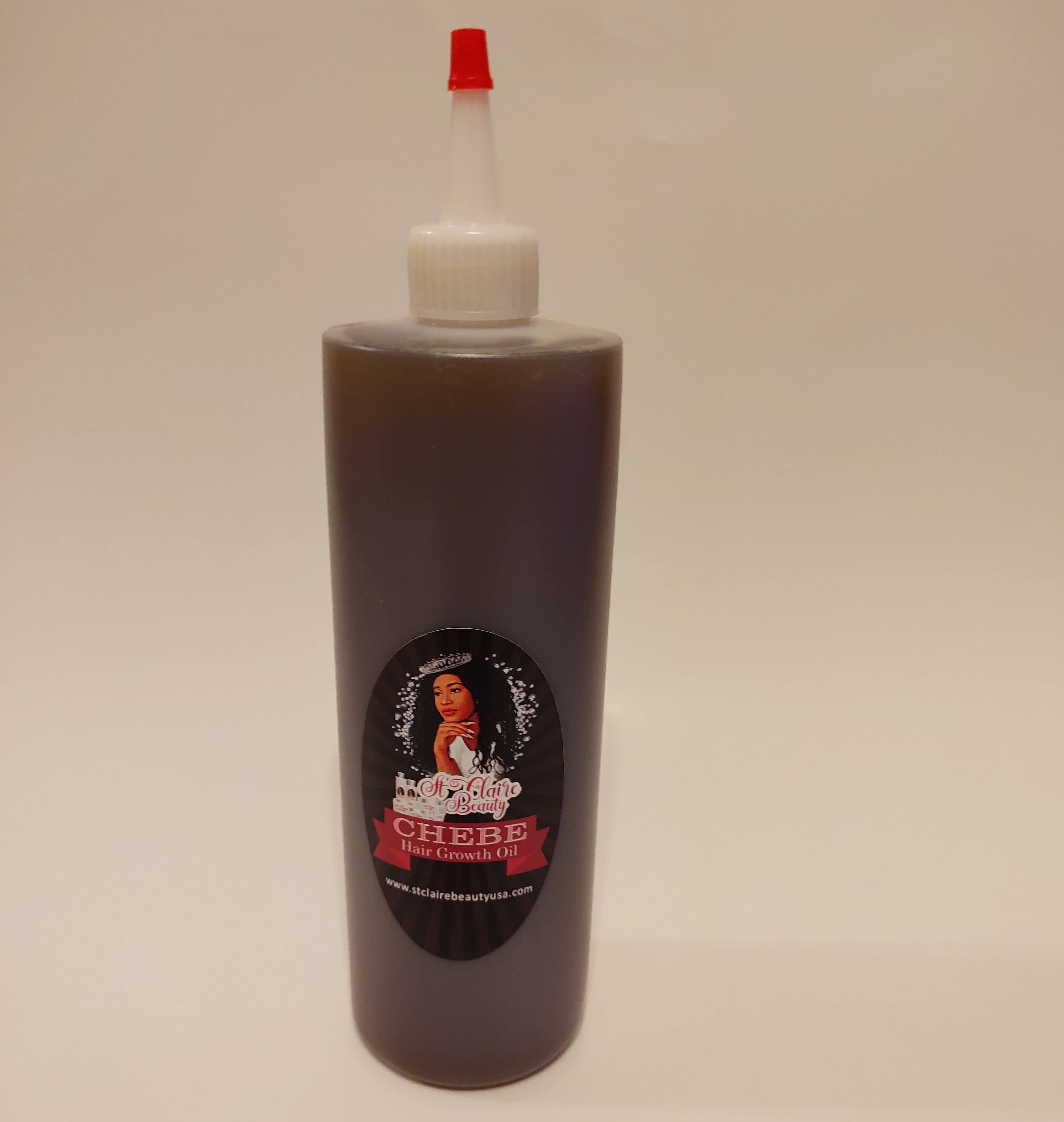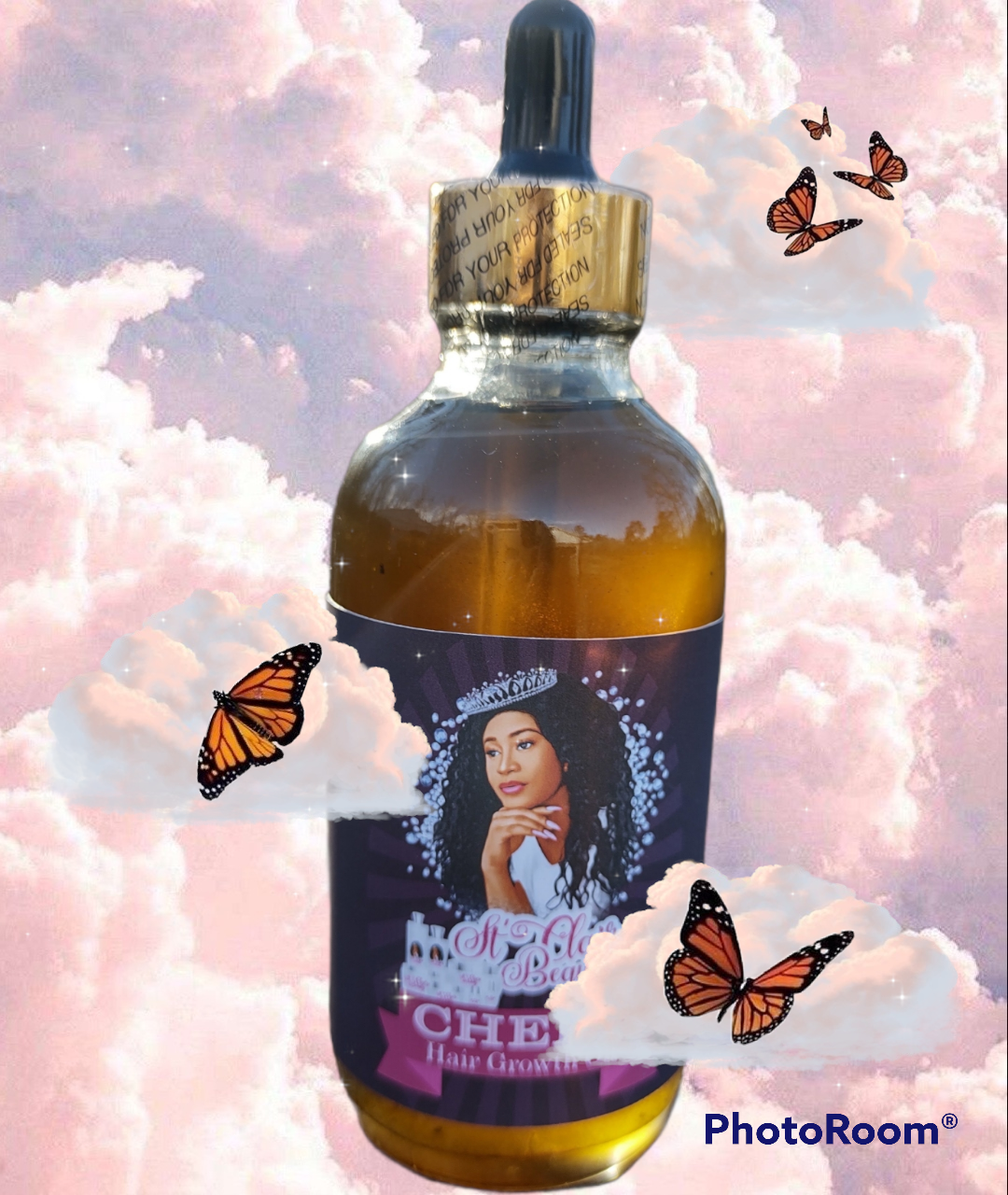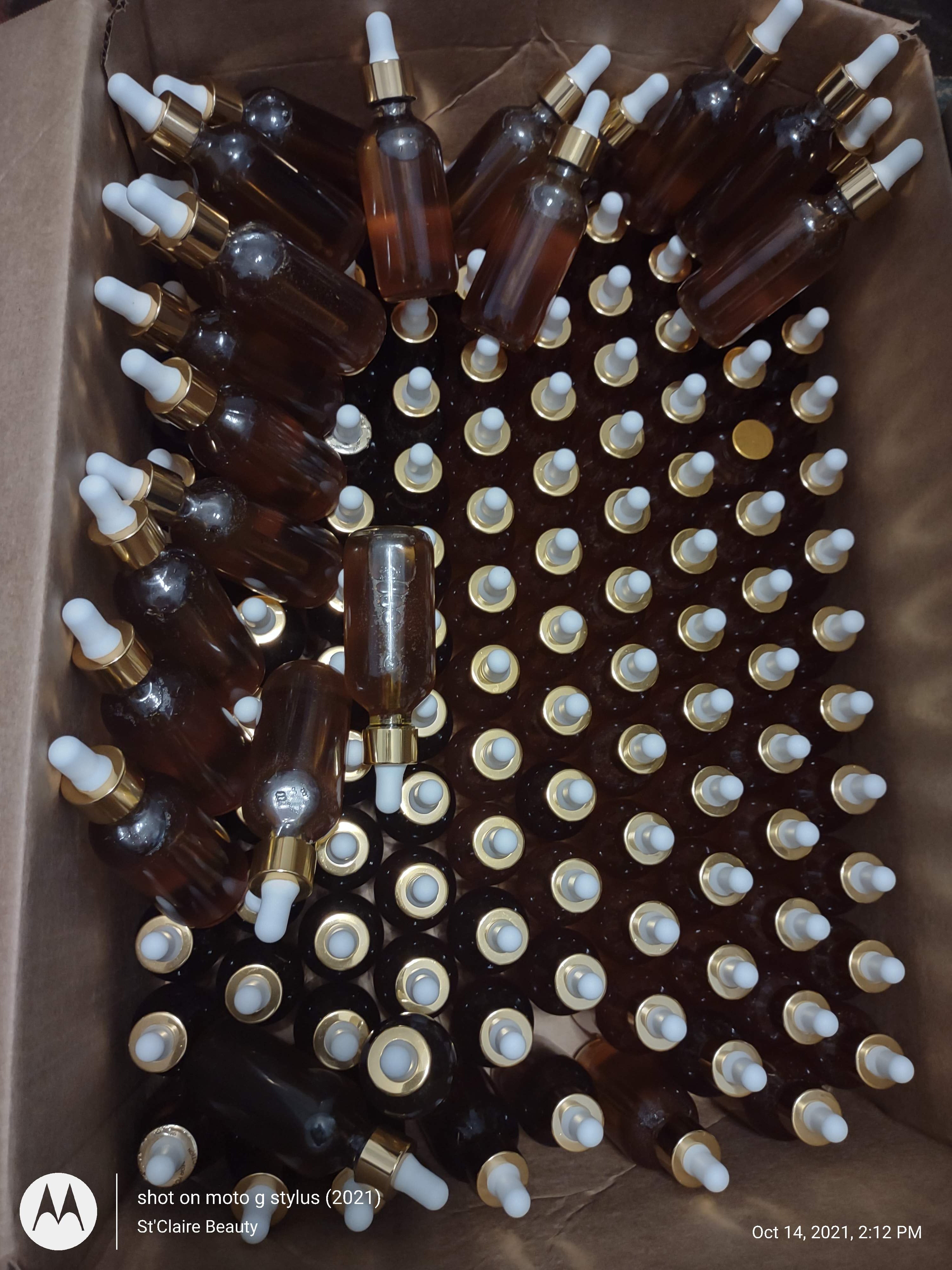 St'Claire Beauty® Chebe Hair Growth oil Extra Strength made with 100% authentic Chebe powder from Chad, Africa. Chebe (pronounced shea bay) powder is a traditional hair growth remedy from Chad, Africa. It has been used for generations to increase hair growth and prevent breakage. All-natural, and only available from plants in this remote part of Africa.

 Chebe is the secret to very long hair in Chad. In Chad women's hair often goes past their waist. For African women elsewhere, this length of hair is almost never seen. Moisturizes hair and prevents breakage. The Basara women in Chad are known to have very long hair. They cover their hair in a homemade mixture that keeps their hair super moisturized and lubricated which is the reason given for why they say their hair never breaks; even from childhood. This is made with ingredients that are only found in Chad and Suda n. is a hair treatment for individuals with hair loss, alopecia, balding, thinning, or just want healthy hair maintenance.

Chebe penetrates the hair shaft to prevent breakage like nothing else, also de-tangles easily making hair easier to manage. Chebe oil can be used daily

FYI: THIS HERBAL OIL HAS A SLIGHTLY STRONG SCENT DUE TO THE ORGANIC HERBS USED TO MAKE IT. 

Benefits:

This product is for all nationalities, men, women, all hair types
Can be used to moisturize dry, and brittle hair, underneath braids, weaves, and wigs.
Can be used on chemically treated hair, natural hair, over-processed hair.
stops hair breakage
Helps with male pattern baldness, hair loss.
Helps With female pattern baldness.
Helps stop thinning which occurs on the top and crown of the head.
Regrows edges.

Ingredients:

Chebe, Saw Palmetto, Gotu Kota, Fenugreek, Amla, Bhringraj, Rosemary leaves, aloe vera, Stinging Nettle, Horsetail, lion mane mushrooms, Sesame seeds, mustard seed, neem powder, orange peel, ashwagandha, burdock roots, Biotin, moringa, Dandelion roots, shikakai, green tea extract, Brahmi, Triphala, ginger root, liquorice roots, lemon myrtle, Siberian Ginseng, Hibiscus, Ginkgo Biloba leaf, Lemongrass, olive leaf, echinacea root, rose petal, Lavender petals, cat claws bark, passion flowers, Calendula petals, rosehip shells, lemon peel, st Mary's Thistle seeds, rhubarbs roots, fennel seeds, JBCO, Castor oil, black Castor oil, pumpkin seed oil, Hemp seed oil, Haitian castor oil, tea tree oil, peppermint oil, ylang-ylang oil, Basil oil, Geranium oil, eucalyptus oil, rosemary essential oil, carrot oil.

Directions:

There are various ways this oil can be used

Apply once a day or every other day for noticeable results 

Apply every day while wearing protective styles such as braids, wigs, weaves, extensions, etc. 

Use as much as you use need, use as a scalp massaging oil, or use as a hot oil treatment under a Hairdryer, or hair steamer.

Warning:

Please do a patch test prior to using it on the entire scalp.

DISCLAIMER: Products contain herbs and essential oils, if you are allergic to these types of items please don't use the products, not liable or responsible for illness or allergic reaction. Please read the instructions and always do the 24-hour skin test as stated.

All Sales Are Finale No Refunds Because Of The Nature Of The Products

FOR EXTERNAL USE only!

This Oil has ingredients made of nuts and seeds. Refer to the complete list of ingredients for possible allergens. A patch test is recommended. If an allergy occurs, stop using the product right away. This product is not intended to prevent, treat, diagnose, or cure any disease. This product and information on this page have not been evaluated by the FDA.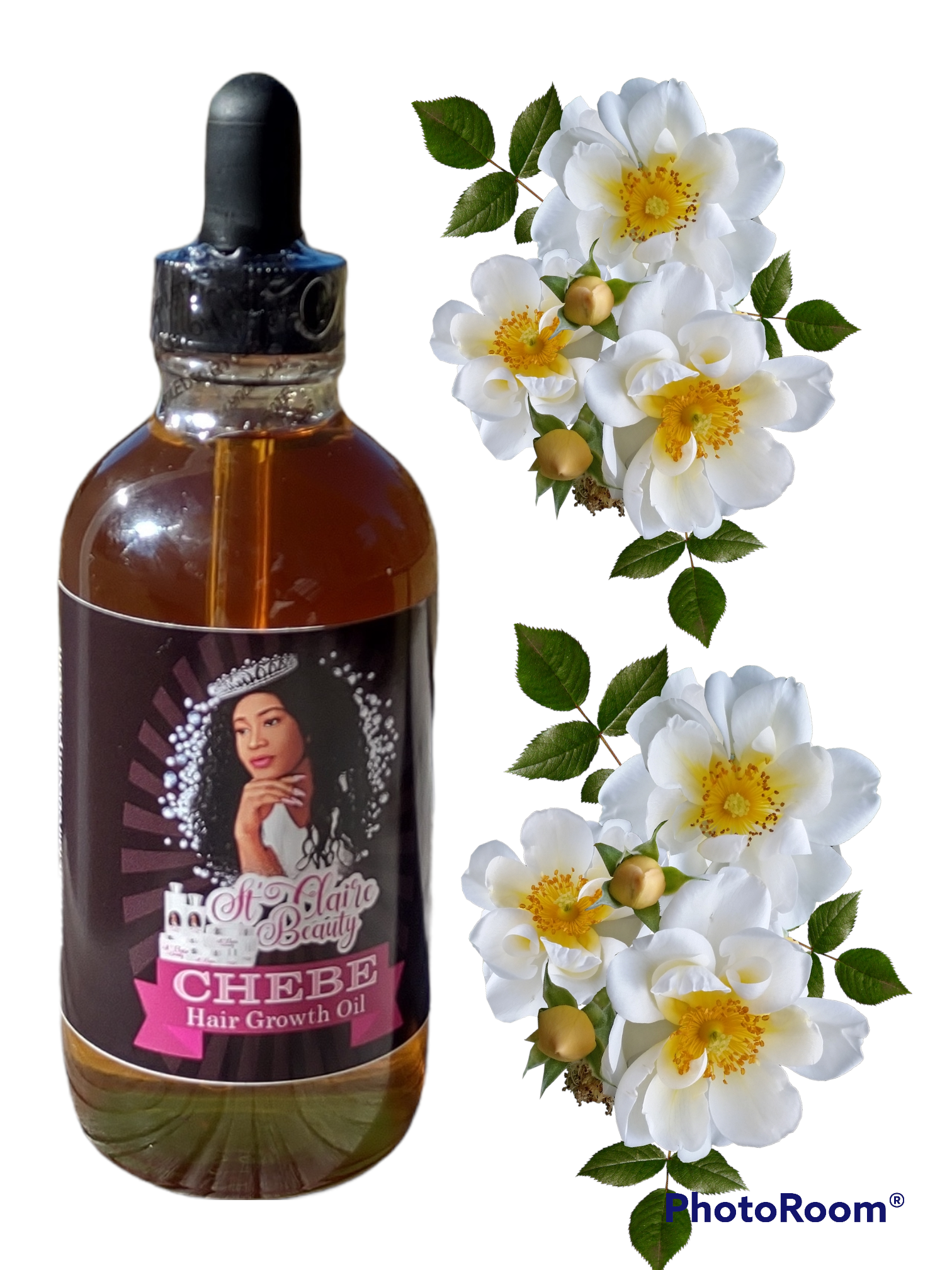 Chebe Hair Oil Extra Strength
Sale price

$25.95 USD
Regular price

$34.99 USD
Choose options